Korean Style Mugwort Steaming
In Korea, mugwort steaming is a traditional method of postpartum care that has been widely used for more than 600 years.
In Korea, this handmade sitz bath has sold more than 5,000 units in three years.
So why is Hwangjin's sitz bath so popular?
Space-saving
It is easy to install in salons with limited space or at home as it does not take up much room.
Easy to use
Anyone can get started with no complicated procedures or skills required.
Durability for a lifetime of use
Inexpensive wooden or plastic baths are prone to mould and breakage.

Hwangjin's yellow clay sitz baths, on the other hand, are built to last a lifetime.
You can see changes in your physical condition
After 30 to 40 minutes of mugwort steaming, you can see the oil and bubbles inside your body in the ocher jar placed under the sitz bath device. The color of the bubbles and the smell of the bubbles will inform you of changes in your physical condition, making it ideal for women's health care.
Great comfort
Why do you think each Hwangjin sitz bath is handmade by craftsmen?

Mugwort steaming involves sitting for a long period of time, so unless it conforms to the shape of a person's buttocks, it is difficult to relax. The reason why Hwangjin's sitz bath has such a good reputation is because it is more comfortable to sit on than other types of sitz baths.

The earthy texture of the yellow earthenware is a sign of a high quality product that can only be achieved with natural materials.
Precious five-colour yellow earth
Hwangto is a soil rich in minerals and enzymes, and has been widely used in Korea for everything from medicine to construction. The ochre used in our orchre sitz bath is a very rare material called "five-colour ochre", which can only be harvested in certain areas of Korea.
It contains not only the conventional components of loess, but also a rich variety of ingredients that are good for the body, such as far infrared radiation and germanium.
Latest cape with both arms free.
Our Mugwort Steamers set features the latest pink cape.
The cape can be opened and closed with a zip so that both arms can be freely moved, and the neck of the cape has been improved for a better fit.
The material used for the cape is also made from high quality fibre, making it the best cape for mugwort steaming.
~Testimonials~
5 units installed in salons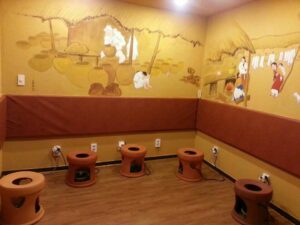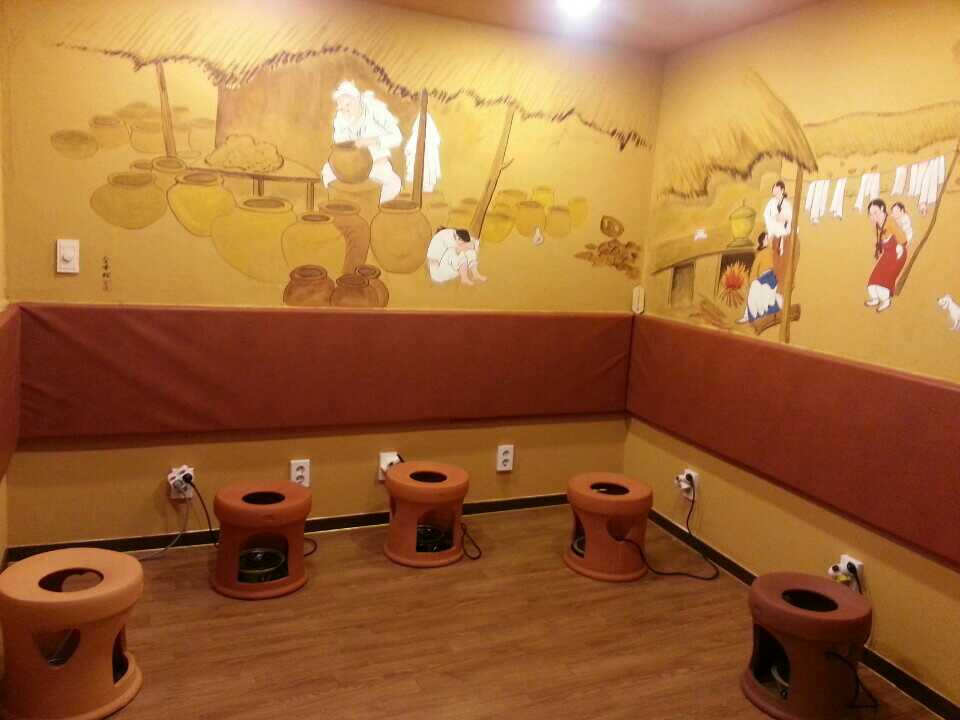 We operate 5 salon stores in Japan. When we decided to introduce something new, the first thing that came to mind was the Mugwort Steamer. I thought ordering online would be the cheapest option, so I looked around and found the most flexible and competitive prices, so I decided to become a distributor here. We will be opening 5 stores simultaneously from next month (Jan 2023) and I really appreciate the advice you have given us on how to offer our products.
🇯🇵 Japan
For 3 Generations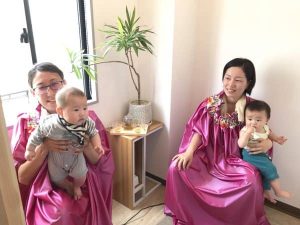 I am old enough to have grandchildren, but I purchased two units together at a discounted price so that I could enjoy Mugwort Steaming with my daughter and grandchildren.
My grandchildren are already adults, so it is hard for me to find opportunities to do it with them, but I really look forward to doing Mugwort Steaming with them once or twice a month while listening to them and my daughter's stories. Although it is a bit expensive, I am really glad I bought it because I can use it for a long time.
🇲🇴 Macau
97% repeat ratio
We purchased this product for a new installation in our salon. This company's response time to our inquiries was very fast and they answered our questions carefully, so we can trust them very much. After the installation, 97% of our customer return to our salon and it has become a popular menu item in our salon!
Hawaii, US
Success Story
What happened two years after opening a mugwort steam salon? – Minaluna Yokohama Japan
Prompt and courteous support
Since we are an authorized distributor of Hwangjin, we are able to provide prompt support. No matter what kind of inquiry you have, we will respond to it with care.
We will provide you with information on mugwort vaporizing at any time through reports on opening a home salon, newsletters, etc.
Certified and qualified staff are always available to assist you
Our certified steam therapists are always available to answer your questions and concerns.
You can always get assistance from a Hwangjin Steam expert.
Certified Hwangjin Steam Therapists are those who have received a certificate after learning "product knowledge and expertise on Mugwort Steaming" at a seminar specified by Hwangjin.
Please take this opportunity to enjoy the traditional Korean product, Hwangjin Mugwort Steam.